|
:::
Business Management
---
1. Purpose of the program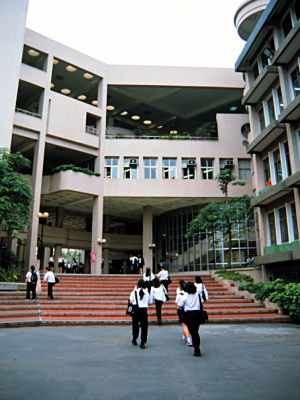 It is not difficult to get to the conclusion, as we take a look at the history of all nations in the world, that the most effective way to rapid prosperity of a country is to facilitate effective management of business. As a result, expertise of this kind seems to be extremely important, with which managers within business can exert professional knowledge and proficient skills. And this is just the purpose of the program "Business Management".
The program aims at developing managers at the basis level, so as to fulfill the needs of different lines of business. Furthermore, it is hoped that our graduates can start their own enterprise after they are fully experienced. They can, in this case, apply what they have learned from the school and turn themselves into the new blood in the national economic development.
---
2. Aims of Education
This program's major aim is to nurture business manager at the basic level. The emphases of education are put on teaching the common knowledge and practical skills of business management as well as fostering various aspects of business such as financial affairs, management, purchasing, storage, sales, and administration.
---
3. Curriculum
The courses provided are meant to have the students absorb adequate knowledge and skills in business management, as well as develop insight in effective business management.
The curriculum are listed below.
(1) Business Basis: Accounting , Economics, General Introduction to Business.
(2) Strengthened Management: Business Management, Laws of Business Affairs, Business Management Practice.
(3) Effective Management: Sales, Business, Etiquette, Currency and Bank.
(4) Assistance Management: Cost Accounting, Computer Application, Japanese.
To meet the need of current tendency towards further studies, and to promote the capacity in future competitions of joint entrances, the program also provides courses such as Economics II, Accounting III, Math III, and Selected English Readings.
---
4. Professional Opportunity
The graduates from this program have multiple choices of professions. Via exams for public servants, they can have access to government offices, financial institutions, post offices, the Telephone and Telegraph Office, the customs house, etc. They can also choose to enter private enterprises or even start their own business. The possible choices are listed in details below.
(1) Management: to cope with financial affairs, administration, production, personnel matters, factory management, and storage, etc.
(2) Business: to cope with market cultivation.
(3) Sales: to help the customers choose from the commodities, check and count the stocks, and do the market survey.
(4) Accounting: to be in charge of the checks, account keeping, annual adjustment, and report writing, etc.
(5) Registration: to deal with the revenue and expenditure, and the report writing, etc.
(6) Typing: to be responsible for the typing of papers or letters.
(7) International Trade: to deal with documents and letters concerning international trade, and cases of price reporting, visa for both import/export, remittance, customs declaration, shipment, etc.
(8) Starting an enterprise: to set up an enterprise and be in charge, such as a convenience store, and a fashion shop, a restaurant, a trade company, etc.
---
5. Opportunities for further study
Graduates from this program also have multiple access to further study, such as two-year commercial college, industry college, science and technology university, the Commercial Education Department in National Changhua Normal University, technology college, and relevant departments in universities and National Open University. If the student's performance is outstanding at school, there are chances to join the exams for direct admission to two-year colleges and technology colleges. To be short, the chances for further study is multiple.

---
6. Conclusion
Recently, the government has been marching towards liberalization, financialization, and systematization, and thus has granted the business with better space for development. This program subsequently provides the graduates lots of chances either to enter the market of career or to start a new enterprise; and with doubt this makes the program a priority for promising young business-orientated students.