|
:::
Extracurricular Activities
-Different School Anniversary, when classrooms turn into shops, and campus into performing stage
---
A. School Anniversary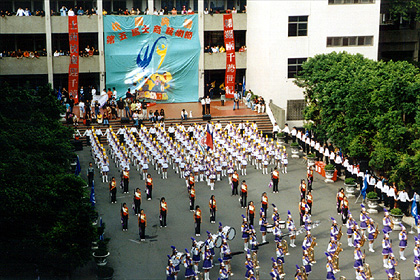 Every year, to celebrate school anniversary that falls on November 15th, we hold a series of activities to guarantee all the visitors an enjoyable day. We have various performances from extracurricular clubs like marching band and honor guards, in-line skating, hot dance, and school choir, some of which are highly entertaining. We also hold exhibitions on works of students from advertisement design department, an artistic touch to the lively celebration.
---
B. Practical Shops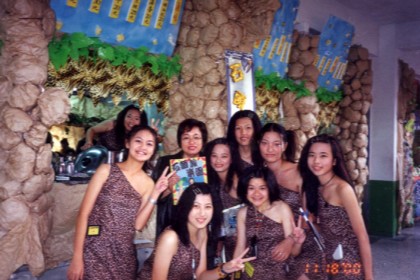 The trademark activity is the Practical Shops, whose purpose is to enhance students' understanding of the procedure of opening a shop. It is hoped that students can apply what they have learned in class to open and run a simulated shop.
The yearly practical shops are set up by the seniors of the year, from both day and night schools. Each class forms their own separate shop, and the classroom thus takes the form of the location of the very shop. Just like regular shops, the practical shops are run by the students throughout the process, from the early design of framework, through planning, budget raising, application for permission of setup, and finally to the conclusive check and count. The high participation of the students can not possibly be compared by outdoor bazaars held in other schools.
---
C. A Kaleidoscope: Various Students' Extracurricular Activities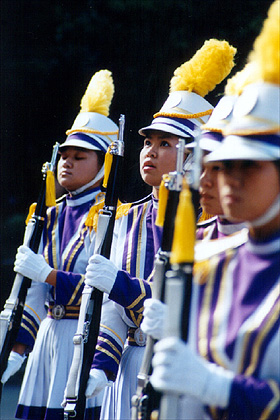 Most students in this school have keen attitude toward extracurricular activities, and they are active in students' clubs. So far there are more than forty clubs in this school, which are listed below in different categories.
Activities: 18 clubs are included, such as the Basketball Club, Volleyball Club, Chorus, Guitar Club, Hot Dance Club, Marching Band, Honor Guard, etc.
Academic Study: 8 clubs are included, such as Accounting Study Club, English Conversation Club, Film Watching Club, etc.
Techniques: 13 clubs are included, such as Photography Club, Computer Club, Internet Club, Handicraft Club, etc.
Social Service: 7 clubs are included, such as Environmental Protection Club, Overseas Chinese Club, Special Education Club, etc.
In addition to the clubs listed above, there are contests and competitions of all kinds on the campus; for instance, there are frequent contests on topic writing, Chinese calligraphy, speech, and reciting, etc. All these make it possible for the students to exert what they have learned. Inter-class competitions, such as sports contest, military songs contest, classroom decoration, or poster drawing, also have the effects on uniting the whole class and enhance their sense of honor. The parents of students are regularly invited to school to attend meetings, so that better understandings between the parents and the school, as well as the chance to work together on the students' problems, are thus available. Irregular speeches are held to broaden the students' knowledge. The Weekly Meetings of all students plays the role of reinforcing their legal conceptions. Activities of blood donation or CPR training is a virtual practice of helping people. The organization of study groups helps students to read more good books, to inspire their minds, and to facilitate their mental interactions with teachers.