|
:::
Applied English Language
---
1. Establishment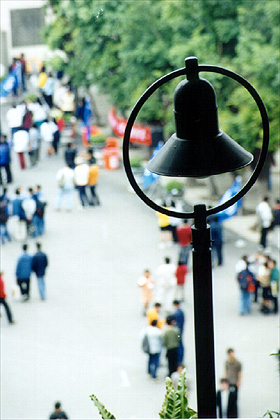 The Department of Applied English Language was established in July, 2004, thanks to the Principal, Mr. Hsu, Shan-te, and the Dean, Mr. Ho, Shan-yu, who had made a tremendous effort to realize the plan. It is a relatively small department with only two classes, 80 students in each grade.
The establishment of this department is meant to address the need of those who would like to make "Department of Applied English Language" their top choice in the joint-entrance- exam of technical colleges. It is also expected to add some novelty and diversity to this half-a-century old commercial school.

---
2. Characteristics
The curriculum of the Department of AFL puts more emphasis on English language training than commerce-related subjects. Students are encouraged to acquire certificates of GEPT and other highly recognized language tests that may contribute to the admission to universities and boost their own confidence.
In terms of facility, the multi-media language laboratory offers ideal communicative language teaching environment. It also provides software that caters to individual learning. Speeches given by native speakers are arranged from time to time in order to create opportunities of face-to-face contact with foreigners.

---
3. Prospects
Statistics show that the vast majority of vocational high school graduates tend to go to colleges to pursue higher education instead of entering the job world. Subsequently, vocational high schools need to adapt to such a trend. So does our department. Thus the nature of teaching becomes more academically-oriented rather than centering on vocational preparation. We believe that if students have a better chance to enter a prestigious university, they will definitely have a better chance to enjoy a more promising future.