|
:::
Accounting
---
1. Purpose of the program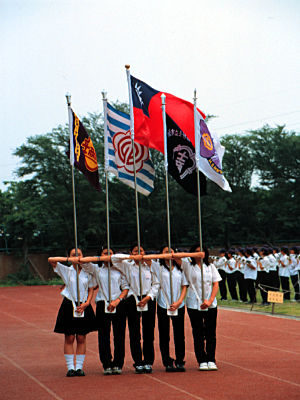 As the organization of businesses and the structure of society are getting complicated, the fields of work for accounting are also expanded. So far, not only the enterprises require accounting liberally, but the government offices or some people's organizations for public welfare adopt this method as well, so as to enhance the management of economic resources, the arrangement of work plans, the control of progress of work, and the evaluation of effectiveness. Therefore, it can be well claimed that accounting is "the language of business, and the eyes of the managers". The students graduating from this program are equipped with basic knowledge and professional skills of accounting, which renders them with the ability to deal with such matters as account keeping, tax declaration, and account checking, so as to meet the needs of the economic activities in society.

---
2. Aims of education
A. To nurture fundamental accounting elites, to teach the students basic knowledge and practical skills of accounting, to develop their morals in the career, and to equip them with abilities such as account keeping, tax declaration, etc.
B. To emphasize on academic abilities of this field as well as general subjects like English and math, as to upgrade the students competence in the future entrance exams for advanced studies.

---
3. Curriculum
This program puts a particular emphasis on correct concept on accounting. This correct concept can help avoid mistakes in the students' future career. The major subjects within this program are: Accounting I, Accounting II, Cost Accounting, Banking Accounting, and Tax Accounting. As for the skills, emphasis is put on Abacus Calculation, Business Calculation, Chinese/English Key-in, and Computerized Accounting. Besides, general business courses like Economics, Introduction to Business, International Trade, etc., are also required. Courses related to life-long learning, training in interpersonal relationship, and career plans are also provided. With these courses arranged, graduates from this program can exert their skills and knowledge at the job market right after their graduation.

---
4. Professional Opportunity
A. Condition and environment of the workplace:
Most of our graduates work indoors. In general, the workplaces are clean, neat, and comfortable. Professional harms are generally not detected among the graduates. The normal hours of everyday work is 8. Each year from January to March, the load of work is heavier because of the annual settlements of accounts.
B. Opportunity of work:
The potential scope of job market of accounting is large. It is even acknowledgeable to claim that this program is the foremost one when job-hunting is concerned. Tow major categories of potential job market are:
(1) Business
Most accounting majors serve in businesses, either the public or private ones. The jobs they cope with include financial accounting, cost accounting, management accounting, tax affairs and budget. Among the management levels in businesses, the accounting personnel play important roles.
(2) Government Offices
Government offices of all levels have an accounting department. The accounting personnel form a distinct system. Their qualifications can only be gained via exams for public servants, and the relevant promotion, nomination and retirement are all regulated by laws.
As far as the requirements of this field of work are concerned, characteristics such as careful thinking, enriched knowledge, perseverance, endurance, and the love for numbers are needed. Moreover, since accounting is the factory of numeric data, a daring spirit of work, a introvert and calm personality are preferred for this job.

---
5. Future prospect
At the beginning, our graduates may hold the positions of assistants. After a few years, when they have gained adequate work experiences and received enough professional training, they may be promoted as accounting managers. If they can pass the national censorship exams for accounting personnel, they may even start their own business - to set up a accounting office. The importance and status they are granted can be parallel with doctors and lawyers.

---
6. Opportunity of further study
Our graduates can participate in entrances exams to National Changhua Normal University, two-year colleges, science and technology universities, and technology colleges. They can apply for universities as well. As long as the students work hard enough, their dreams to enter a university or a college would come true.